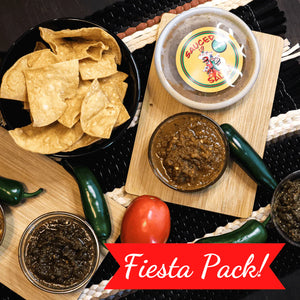 Fiesta Pack: A Fiesta on Your Table!
Get ready to turn any occasion into a fiesta with our Sauced Up Salsa Fiesta Pack. This bundle features some of Utah's favorite Salsas and Chips, perfect for sharing and savoring. With four distinct salsa flavors and freshly made Corn Tortilla Chips, your taste buds are in for a treat.
🌽 1 lb Fresh, Gluten-Free Fiesta Corn Tortilla Chips Indulge in crisp, golden chips, made for dipping and enjoying with friends and family.
🍅 12 oz Mild Salsa The classic choice for those who appreciate a delicious blend of flavors without too much heat.
🌶️ 8 oz Fiery Green Tomatillo Salsa Spice things up with a zesty, tangy green tomatillo salsa that's sure to tickle your taste buds.
🔥 12 oz Hot Habanero Salsa For those who crave a fiery kick, our hot habanero salsa brings the perfect amount of heat.
🍍 8 oz Sweet Heat Pineapple Salsa Discover the delightful fusion of sweetness and spiciness with our unique pineapple salsa.
With enough servings for up to 32 people, the Sauced Up Salsa Fiesta Pack is your go-to choice for celebrations. Available for convenient home delivery or pick up at our Salt Lake location.
Ready to add some spice and flavor to your gatherings? Order the Sauced Up Salsa Fiesta Pack now!