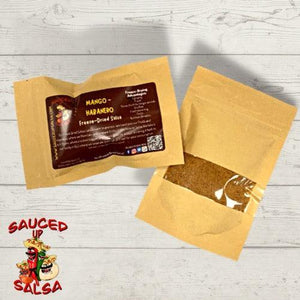 Freeze-Dried Mango-Habanero Salsa
Sauced Up Salsas Freeze-Dried Mango-Habanero Salsa is a delicious and versatile freeze-dried salsa that can transform your kitchen into a tropical oasis with its enticing aroma.
This salsa can be used in various ways, such as a dry rub, added seasoning, or reconstituted with water to create your favorite salsa consistency. It pairs well with many foods, adding a delightful kick of flavor to your dishes.
If you're interested in trying Utah's Favorite Mango-Habanero Freeze-Dried Salsa, you may purchase it online or at various Markets. You can also contact us directly for more information on where to purchase this product.
1 oz (Freeze-Dried Salsa)
up to 8 oz reconstituted just add water.