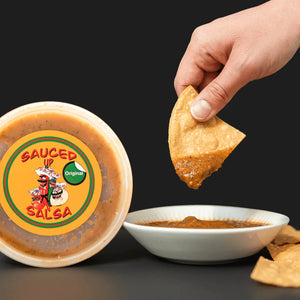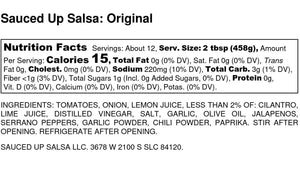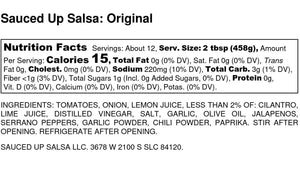 Original Salsa
Picked at peak of freshness. Made with roasted garlic, vine-ripened tomatoes and olive oil.
No artificial colors, no artificial flavors, and no added preservatives.
Our Original sauce is made with sweet vine-ripened tomatoes and savory herbs and seasonings you can taste in every bite, without the spice.
Sauced Up Salsas are made with ingredients you'd find at your local farmers' market like roasted Garlic, vine-ripened Tomatoes, and Onions all picked at the peak of freshness and made the way you would at home from scratch with fresh fire roasted ingredients.
Enjoy with your favorite dishes and recipes.
12oz 
Pick up and Homen Delivery Available.