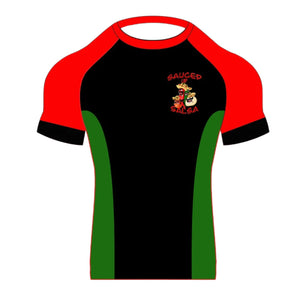 SAUCED UP SALSA "YOU JUST GOT SAUCED!" SHORT SLEEVE RASH GUARD
What is a Rash Guard? How can I use It?
MMA/BJJ/Boxing/Sports: 
Your Sauced Up Salsa Rash Guard is perfect for all types of sports from Grappling, Boxing, Biking and More. It will help protect you and your body by keeping your body and muscles warm for maximum athletic capabilities, and from injuries. It also helps by reducing cuts, scrapes, bruises, skin grabs and more. Perfect for wearing under your Gi to absorb sweat or paired with your favorite board or fight shorts. 
Water:

Did you know Rash Guards were made for water sports?
Our Rash Guards can be worn for warmth, added uv protection, and rash protection. Perfect for pairing with your favorite swim apparel for added coverage. By wearing an old T-Shirt compared to a Rash Guard in a pool, it will carry more bacteria. Wear it out on a day at the lake, the beach or your favorite water adventure, Sauced Up Salsa has you covered.